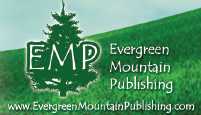 Evergreen Mountain Publishing
---
Evergreen Mountain Publishing began when Tim Benedict got frustrated, and decided that there had to be an easier way to get published than to wait on the whims of the publishing industry to publish several of his manuscripts. So he went out, did his research, bought some equipment, and figured out how to print and publish books on his own.

Then after successfully printing several of his books, and publishing several more on Amazon as well, he realized that other authors could benefit from what he had figured out as well. So he established a small company called Evergreen Mountain Publishing, specifically to publish his own material and that of other new and small time authors that had quality material to offer.

EMP, as Evergreen Mountain Publishers is also known by, can take a manuscript all the way from its rough stages on typewritten paper or computer file, edit it, format it, print it, bind it, publish it on Amazon, and even assign it an ISBN number. But they don't stop there. They can also build you a website for the book, issue press releases regarding the book, market it online, print small print runs, and help authors market their own material in the actual publishing world.

If you have questions, or are interested in our services, please go to our contact form to tell us about your manuscript or idea, or request more information and price quotes from us.

You can also reach us by e-mail at EvergreenMountainPublishing@timbenedict.net, with specific questions.